Tread Lightly Scope 3 Impact Assessment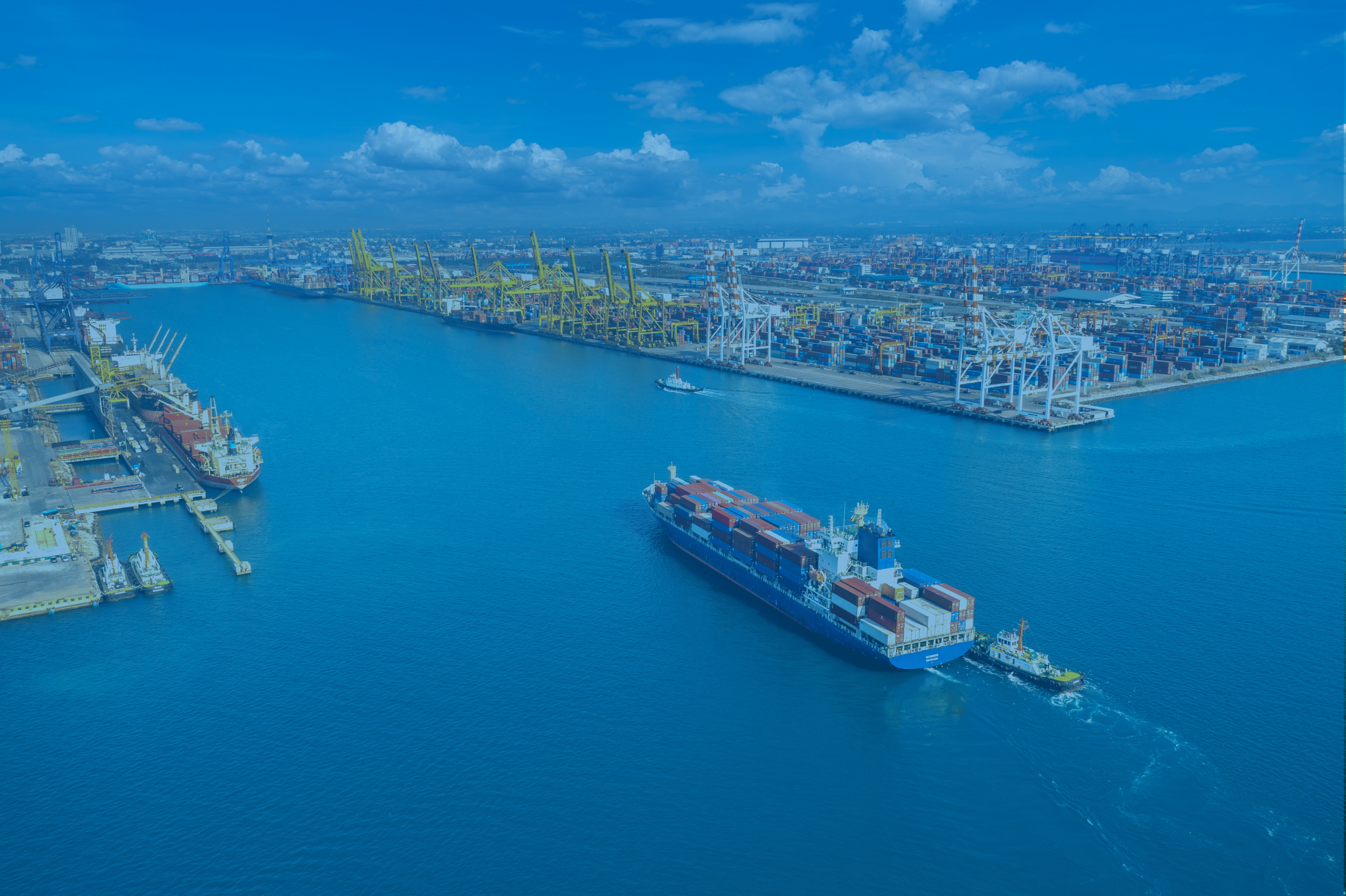 UNDERSTAND YOUR SCOPE 3 FOOTPRINT
Are you struggling with Scope 3Indirect emissions resulting from an organization's upstream and downstream value chain reporting? Do you want to pursue a more sustainable procurement process, but don't know where to start? Looking for ways to make your supply chain more CircularThe process of returning goods from the consumer to the point of origin for replacement, refurbishment, recycling, redistribution or clean disposal.?
The Planet Price Tread Lightly Assessment can help you quickly and cost-effectively understand and quantify the upstream Scope 3 emissions generated across your entire supply chain.
And we go way beyond Greenhouse Gases, as all planetary boundaries are under pressure – not just CO2.
A rapid, no risk, low cost way to
measure your Planet PriceA single metric, expressed in monetary terms, that calculates the societal cost of products & services used in business operations to help procurement and sustainability teams make more sustainable and circular procurement decisions. across
all planetary boundaries.
A World of Benefits.
The Tread Lightly Assessment leverages our proprietary AI-based machine learning capabilities, commercial-grade data,
environmental pricing methods and sustainability analytics to provide you with:
Scope 3 Greenhouse Gas Emissions
Automatic calculation of your upstream Scope 3 CO2 emissions
Full Procurement picture
A top-down, comprehensive analysis of your organization's procurement data
Understand your Planet Price Across All Planetary Boundaries
The Tread Lightly Assessment delivers data beyond just Greenhouse Gas emissions to include impacts on other Planetary Boundaries including: land, water, smog, acid rain, ozone depletion, eutrophication, human health and ecotoxicity.
Spend Heat Maps
Granular heat maps across a variety of dimensions
Detailed Breakdown
Identification of sustainability hotspots, by category and supplier
Granular Results
Export data across all dimensions
Platform Access
Explore all your data within the secure, Cloud-native, SaaS-based Planet Price platform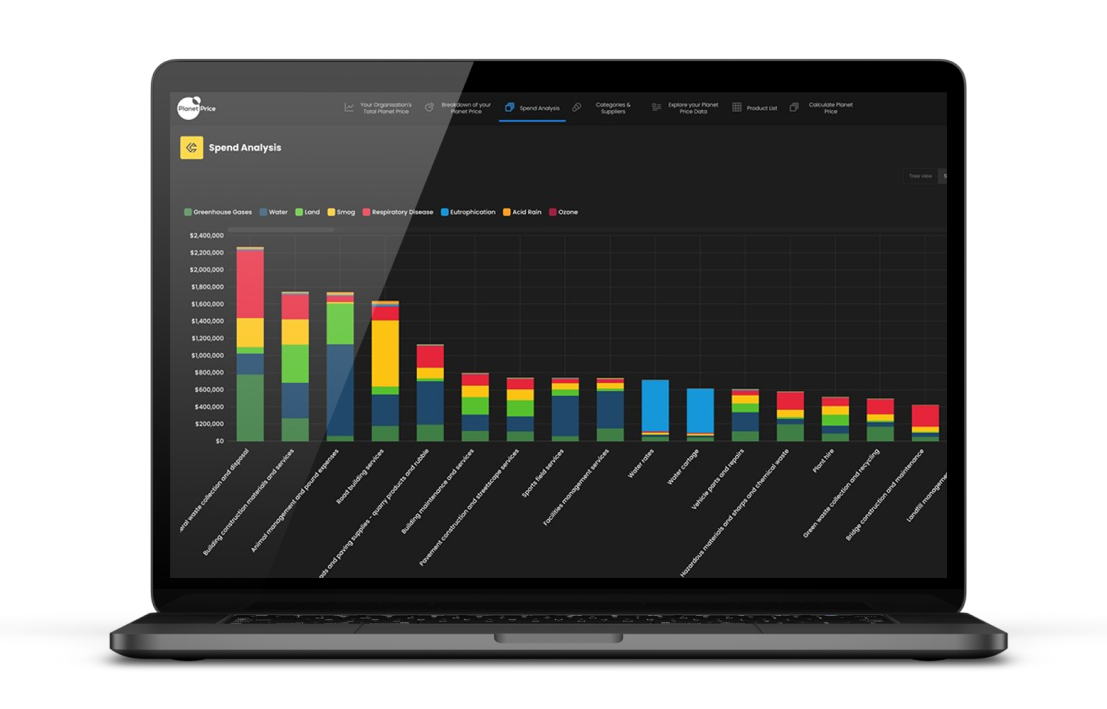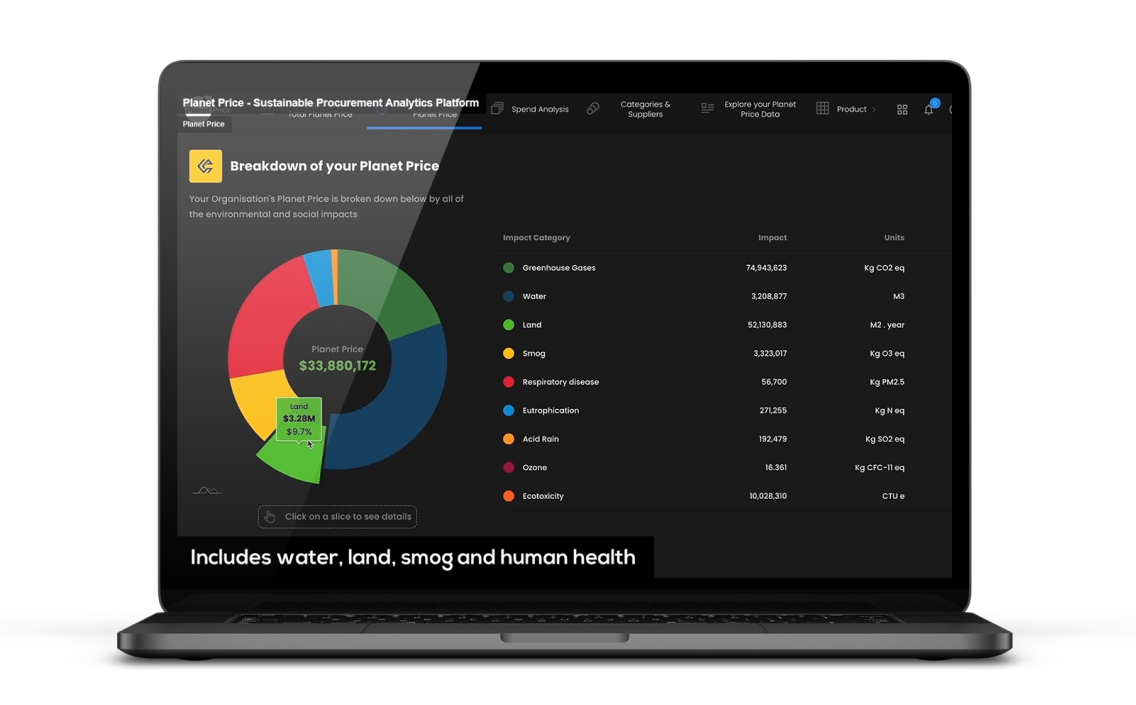 A Quick, Clean Process
The Tread Lightly Assessment offers a simple, straightforward process
to get you up and running quickly and easily with no data entry or cleansing needed: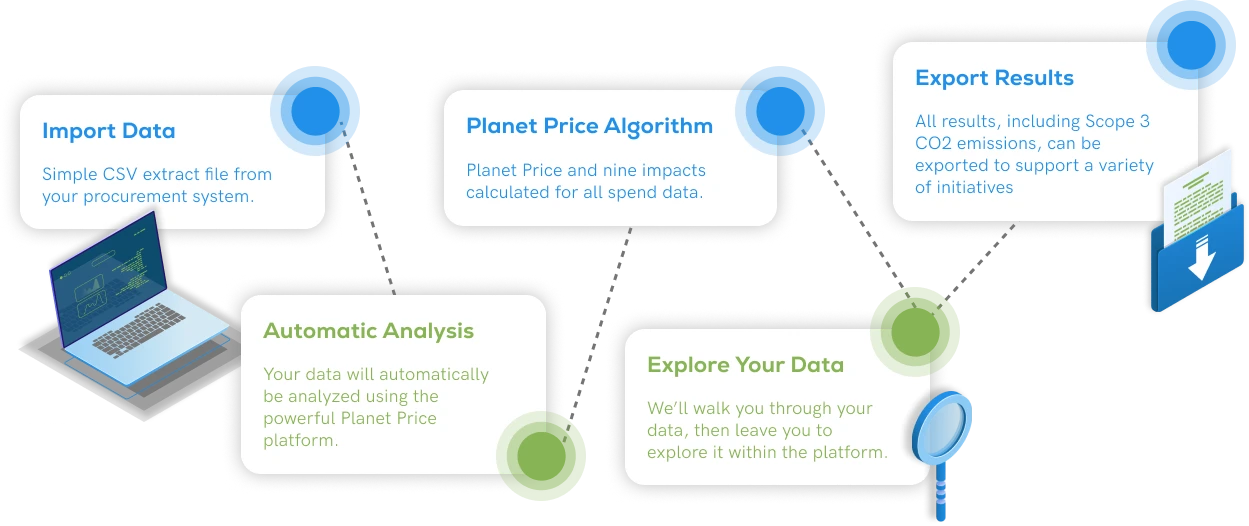 Inquire About Our Compliant Scope 3 Assessment Today
The Tread Lightly Assessment is compliant with the latest emissions reporting standards and can be customized to meet the specific needs of your organization.
Most assessments deliver the results within two weeks. Click here to get more info on how you can begin treading more lightly on the planet… and helping us all progress towards a more sustainable future.