The Planet Price® Metric.
It's what makes us unique.
What exactly is the Planet Price metric?
Simply put, it's a unique approach to simplifying the complex and daunting task of quantifying
the environmental and social impacts of supply chains.
More specifically, it's a single metric, expressed in financial terms,
that calculates the real cost of everything.
THE PLANET PRICE METHODOLOGY
To arrive at a final Planet Price metric, we leverage artificial intelligence and other proprietary technologies to conduct top-down and bottom analyses of products and services across supply chains.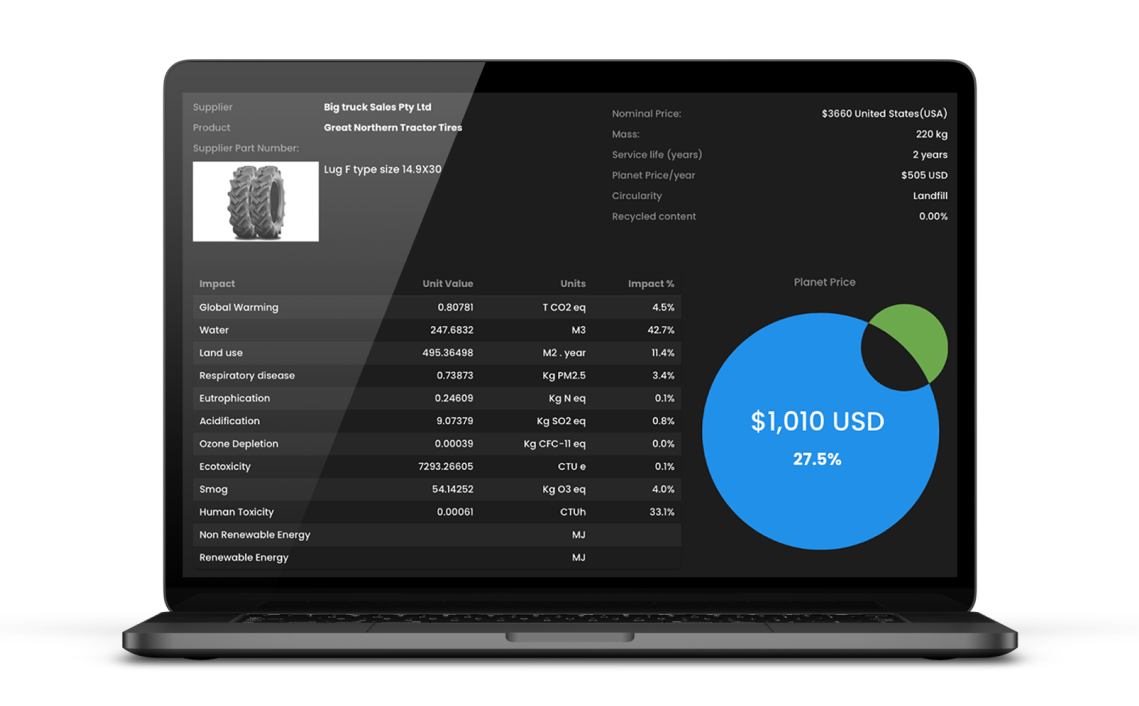 Top-Down, Bottom-Up Analyses
To deliver the most accurate Planet Price possible, we conduct a top-down approach that analyzes your entire procurement landscape and combine it with a bottom-up analysis that drills down on specific material and product hotspots.
Top-Down Analysis
To analyze your entire procurement landscape.
Bottom-Up Analysis
To drill-down on specific product and material hotspots.
TOP-DOWN ANALYSIS
Data Extraction
Data is extracted from your corporate procurement system as
a simple CSVPlanet Price imports and exports data as simple Comma Separated Value text files file.
Data Check
The data is automatically checked for errors.
Procurement Matching
The artificial intelligencePlanet Price uses a Natural language Processing (Machine Learning) model to map procurement text information with environmental impact databases model uses Product Categories and Purchasing Descriptions to automatically match procurement spend with industry codes. You can manually change these if you like.

Environmental and Social Impacts
Using the industry type, the algorithm calculates the values for nine different environmental and social impactsThe Planet Price algorithm considers: Greenhouse Gases, Land, Water, Smog, Acid Rain, Ozone, Respiratory Disease, Ecotoxicity and Eutrophication for the procurement spend amount.
Societal Cost
The Societal Cost The marginal cost to society resulting from emissions and other environmental impacts for each of the impacts is applied to calculate the overall Planet Price.

Explore Data
Now you can explore your data from every angle to identify opportunities and hotspots using our powerful, interactive visualisations.
Scope 3
Data from the analysis can be exported and used to support your Scope 3 Indirect emissions resulting from an organisation's upstream and downstream value chain reporting according to standards.

BOTTOM-UP ANALYSIS
Product Planet Price
Now that you have identified the Product Categories and Suppliers of most interest, you can calculate the Planet Price for specific products and material mixes.
Product Calculator
Using a simple web-based calculator, suppliers can enter
information about their products.
Product-Specific Data
Suppliers enter data about materials, packaging and
recycled content …

Transport Data
… and also information about
transportation.
Further Environmental Information
If it is available, Suppliers can also enter data from a Life Cycle
Analysis study or Environmental Product Declaration.
Calculate Planet Price
Using all of this information. The algorithm calculates the Planet Price for the
product or material mix and generates a digital certificate.
Product and Material Library
Develop and share a library of Planet Price data for Products
and Materials.
Inform Procurement Decisions
Planet Price in the Platform can be used to inform
procurement decisions.
Ready to experience the power of the Planet Price Platform?